1. Description
2. Course Synopsis
3. Course Staff
4. Admin Links
5. Schedule
6. Handouts
7. Grading
Amateur Radio
Campus
Emergency
Numbers

Emergency
9-1-1

First Aid
604-822-4444

Campus Patrol
604 822-2222


EECE 391 - Electrical Engineering Design Studio II
Summer 2019 - Section 942


Prof. David Michelson

1. Description:
From the UBC Calendar:



"Introduction to project management. Problem definition. Design principles and practices. Implementation techniques including circuit design, software design, solid modeling, PCBs, assembling, and packaging. Testing and evaluation. Effective presentations. [2-0-6] Credits: 6."





Pre-requisites: One of CPEN 291, ELEC 291, ELEC 292, EECE 281 and two of EECE 352, ELEC 315, EECE 356, ELEC 301, EECE 359, EECE 360, ELEC 341, EECE 364, ELEC 311, EECE 373, ELEC 342.

2. COURSE SYNOPSIS
In Summer 2019, the ELEC 391 class will be divided into six teams of four or five students.

Students will complete:

- three basic lab assignments on spectrum analyzers and filters, analog modulation, and phase-locked loops

- two intermediate lab assignments on inductors and capacitors, and sensitivity, selectivity and distortion

- one design project concerning a low power radio receiver

- one design project involving a LoRa low power / long range wireless nertwork

ELEC 391 alumni will be both confident and capable of pursuing Electrical Engineering design projects of moderate complexity and length in their fourth year and beyond.




Design and the Professional Engineer


- Where public safety or legal liability are issues, it is generally necessary to have a Professional Engineer assume responsibility for the correctness of a design or results by signing or sealing a design document or report.

- Professional engineers are often required to seal the results of tests and measurements conducted on communications and control systems, especially where deficiencies in such systems could affect public safety.

- Innovation, Science and Economic Development Canada (formerly Industry Canada) currently requires Professional Engineers to sign or seal most licence applications concerning broadcasting or microwave systems that operate in licenced bands.

- Many clients now require that their consultants carry errors and omissions insurance. This is very difficult to obtain if one isn't registered as a Professional Engineer.

- RFP's (Requests for Proposal) and RFQ's (Requests for Quotations) for consulting services often stipulate that bidders be registered as Professional Engineers to be eligible for consideration. This is especially common for work done on behalf of a provincial government or another consulting firm.

- Because the Professional Engineer designation is awarded to those with documented experience in designing engineering solutions based upon established and accepted principles, many consultants feel that it gives them instant credibility with prospective clients.

- If you aren't certain whether you need to register, your manager or director will not hesitate to advise you!

- For more information, please contact the Association of Professional Engineers and Geoscientists of BC





3. Course Staff
Role

Name

E-mail

Office


Professor:

David G Michelson, PhD, PEng

davem@ece.ubc.ca


MCLD 441

Engineering Staff:

Tiho Tunchev

Dr. Robert Rosales
tihomirt@ece.ubc.ca

robertor@ece.ubc.ca
MCLD 314

MCLD 332


TA:

Sara Uppal

Hamed Noori
@ece.ubc.ca

noori@ece.ubc.ca


MCLD 442


4. USEFUL Links

5. Course SCHEDULE

T
his schedule only covers contact hours. Expect to devote significant non-contact hours to the course as well!
This includes reviewing lecture notes, reading assignments, group meetings, report writing, and project work.

REPORT DUE DATES (@ 23:59, by email to davem@ece.ubc.ca)

Lab 1 - Tue, 10 Jul 2019
Lab 2 - Tue, 17 Jul 2019
Lab 3 - Sat, 21 Jul 2019
Lab 4 - Tue, 24 Jul 2019
Lab 5 - Tue, 31 Jul 2019
Radio - Sat, 4 Aug 2019
LoRa - Mon, 13 Aug 2019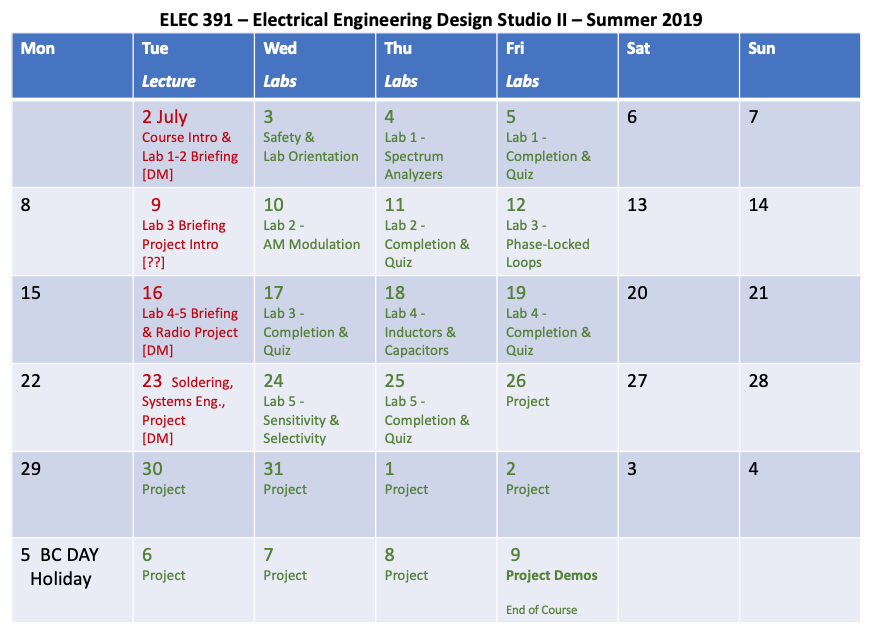 ---
6. Handouts
7. Grading
Lab Orientation will be evaluated (and must be
successfully completed) but will not be scored.

30% - five lab assignment group reports (LABS)

20% - in class quizzes (QUIZ)

25% - Radio Project - demo + report (PRJ1)
25% - OrcaSatProject - demo + report (PRJ2)
_____________________________________

100% - final course mark
_____________________________________

Penalties will be applied at the discretion of the instructor
for late submission or completion of course requirements.


---
---
http://courses.ece.ubc.ca/elec391/index.html
Last updated: 3 Jul 2019
Comments? Suggestions?
Please contact Prof. Dave Michelson, davem@ece.ubc.ca